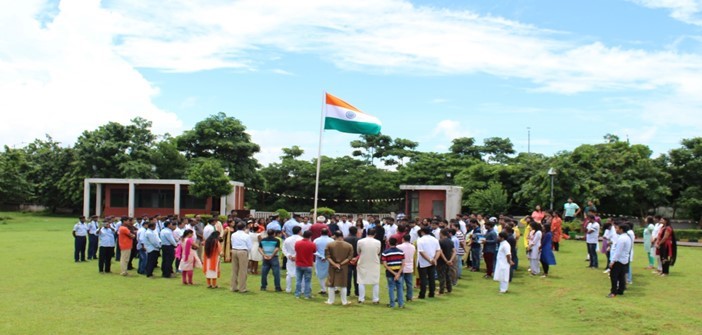 The 72nd Independence Day was celebrated in all its solemnity and grandeur at IMI Bhubaneswar, on August 15, 2018. The Celebration of this auspicious day began most majestically with great respect and enthusiasm. The ceremony started early in the morning at IMI Bhubaneswar campus amidst a huge gathering of the students, faculty members and the staff. To commemorate the sovereignty of our nation Prof. Ramesh Behl, Director of the institute unfurled the Tricolour and all in unison sang the melodious strains of the national anthem articulating the joy of our freedom and rejoicing the patriotic fervour and universal appeal of unity and brotherhood.
Addressing the students, Prof. Behl applauded and praised the efforts of the young learners and aroused the budding aspirants of the nation to imbibe the essence of duty, discipline, responsibility, and pride of Indian culture and heritage. Throwing light on the spirit of IMI Bhubaneswar in contributing to the nation in the form of environmental and societal movements such as Swachh Bharat Abhiyan, Plantation drive, and adoption of 5 villages in the catchment area of the institute, he appealed students to make possible contributions likewise towards nation building that can help India progress in the path of development. The event also included distribution of merit certificates and cash prizes to the toppers of the PGDM 2017-2019 batch and was further followed by cultural activities and games among the students and the faculty members. Carrying forward the legacy, the PGDM 2018-20 batch planted 60 saplings in the campus as a part of the plantation drive.
The day reminded that freedom is sacred and citizens must do everything to ensure that it is encouraged and cherished in its true sense. Indeed, it was a day of joy, a day to love and to respect our country and make it a better place for us to live in.