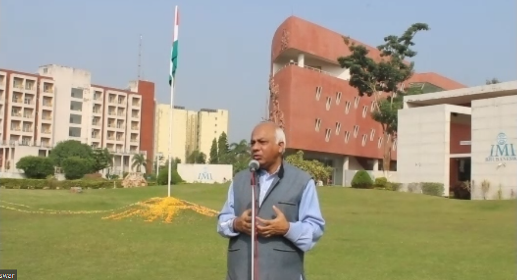 Every nation has a message to deliver, a mission to fulfill, a destiny to reach. The mission of India has been to guide humanity."
- Swami Vivekananda-
"
India's 73rd Republic Day was celebrated on Wednesday, 26 January, 2022. Looking back on the history, the country adopted its Constitution on this day, in 1950. The Constitution constitutes the laws that govern the lives of Indian citizens, and this was drafted by a drafting committee headed by Dr. BR Ambedkar. Republic Day is celebrated across India with zeal and fervor. A parade is organized by the Indian security forces at Rajpath, New Delhi, and in other state capitals.
IMI Bhubaneswar showed the same zeal and fervor and celebrated this day. Though the students were not present physically due to the ongoing pandemic, they were connected virtually through zoom and marked their presence. Soon after the flag was hoisted, our Director Prof. Ramesh Behl addressed the faculty, staff, and the students.
Prof. Behl in his speech mentioned about Positivity, Willpower, Courage to handle and overcome situations. He also insisted us to adopt the Lean way to develop a community and to be grateful for anything we seek and achieve in life. He asked us to take an hour out of the 24 7 time frame per day to think about how have we contributed to the well being of our motherland and our fellow citizens .


While ending his speech he motivated us to be happy, safe, and not to chase materialistic happiness. Continuing the trend, a plantation drive was organised where our Director, faculty, staff and students joined hands in planting several saplings in the institute.