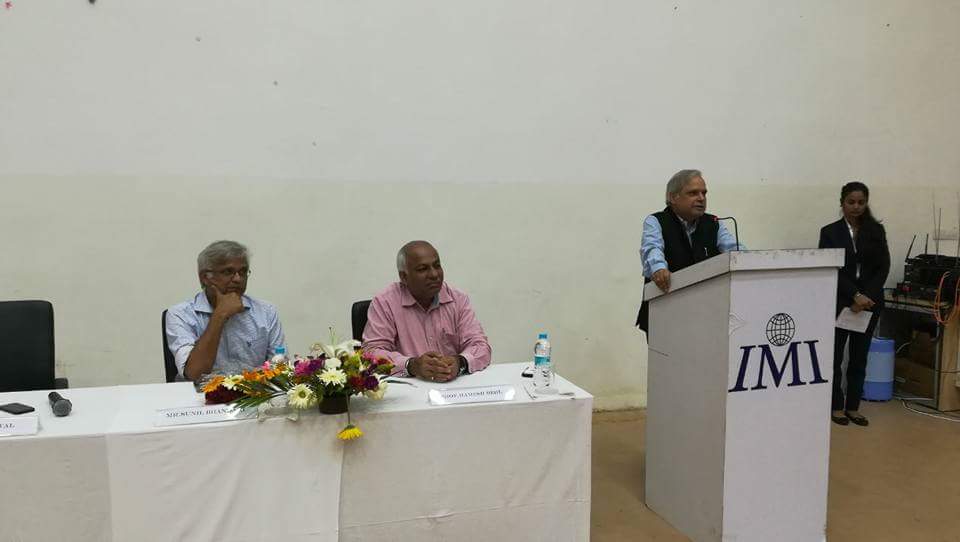 The campus added one more star to its shoulder by welcoming honorable Sh. V C Agarwal- President , Corporate HR and Board member, RPSG Group , Sh. Sunil Bhandari- ED, Corporate, RPSG Group , Sh. Sanjiv Agarwal- ED, Head of Contracts, RPSG Group and Sh. Abin Chaudhari, renowned architect.
The meeting started with warm greetings to the guests. Ms. Sabrina Gupta being the host invited Mr. V C Agarwal on the podium to address the meeting. He started with a powerful statement "People are hired due to their functional skills and fired due to their non-functional skills." He talked about knowing the company's work culture when joining it. Getting adopted to the company's norms is the step one and making the company listening to your ideas is the step two.
The thumb rule to be remembered throughout the life, he talked about was- "When you are working in an organisation always remember that one human being is dealing with another human being and you will see the change yourself."
In the end he addressed to the queries raised by the students.
Mr. Sunil Bhandari came to the podium with a huge smile on his face and talked about the betterment of the current scenario of the students. He encouraged students to participate in the class by asking more and more questions. He talked about challenging the inner self and increasing the zeal to learn and grow.
Then he went to talk about the new ecosystem we are going to tap and to be prepared for that. The "star concept" which he introduced was about reaching up to the stars and looking yourself from there. This is the process to improve yourself.