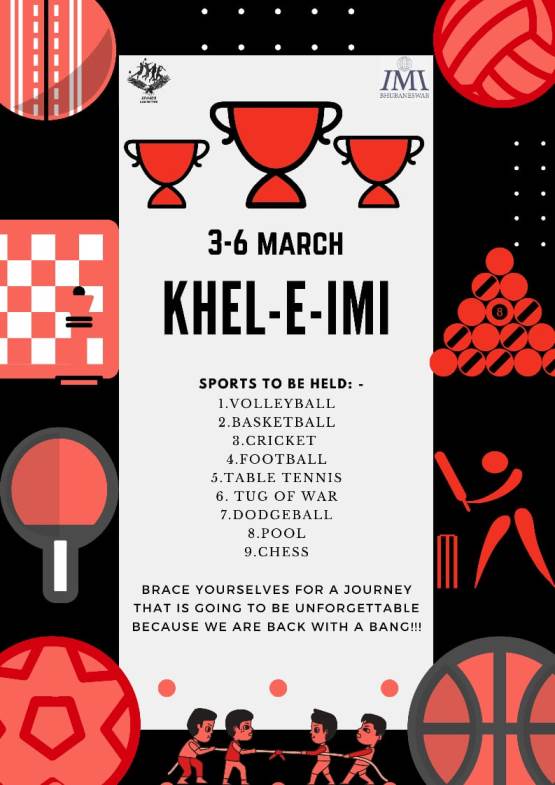 KHEL-E-IMI 2022
"Sports serve society by providing vivid examples of excellence."
-George F. Will



The IMI Sports Committee organised a four-day event called KHEL-E-IMI from March 3rd to March 6th, 2022.
The KHEL-E-IMI 2022 edition is by far the most successful edition of KHEL-E-IMI, as the event included a total of 9 sporting events which had outnumbered the total number of events and the participation of students compared to previous editions. The event included Volleyball, Basketball, Cricket, Football, Table tennis, Tug of war, Chess, Pool, and Dodgeball.
Prof. Ramesh Behl (Director, IMI Bhubaneswar) inaugurated the four-day event, which began with Volleyball. He served the first few balls to energise the participants and audience. Throughout the four days of the event, multiple sporting events were held concurrently. The KHEL-E-IMI was brought to an end by the flagship event tug of war which attracted maximum participants to demonstrate their strength and vigour. Finally, after all the sports wrapped up it was time to felicitate the winners of all 9 events. Upon completion, the winners were awarded cash prizes and certificates.
This event was kind of a booster for students as it provided the opportunity of experiencing and developing the sportsmanship spirit that is required professionally as well as personally. These events were well managed and coordinated by the Sports Committee.