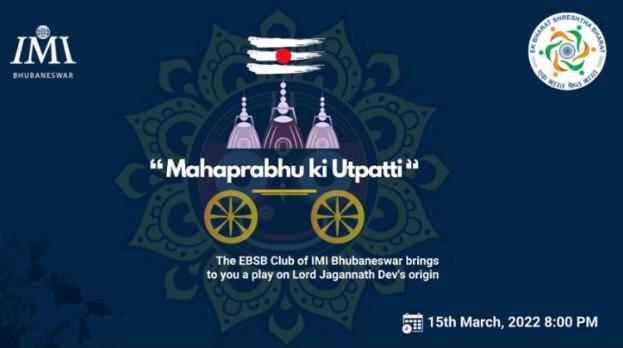 EBSB Club of IMI Bhubaneswar organized a very insightful play on Lord Jagannath's origin on 15th March'2022.
Lord Jagannath is a deity unique to Odisha. He is known as the Lord of the Universe, of the three worlds of the sky, earth, and the netherworld, as Jagannath. He is also one of the forms of Lord Krishna, Lord Vishnu's eighth avatar. Shri Jagannath possesses many of the traits of Vishnu, who is the preserver of Lord Brahma's created universe.
Shri Jagannath is considered to be the people's god who is gentle and sympathetic to his worshippers. It is believed that he patiently listens to the pleas, complaints and wishes of his disciples. Shri Jagannath is a protective and generous god, which is why his worshippers adore him.


He resides in the Puri Temple with his sister Subhadra, and his brother Balabhadra which is the only temple in the world where an avatar of Lord Krishna is worshipped with his siblings. The religious rituals and festivals associated with this deity have a long history.


This event explaining the emergence of Lord Jagannath was first conducted on the zoom platform and then premiered on Youtube. The students of IMI Bhubaneswar actively participated in the event and exhibited their acting skills and enjoyed the play.