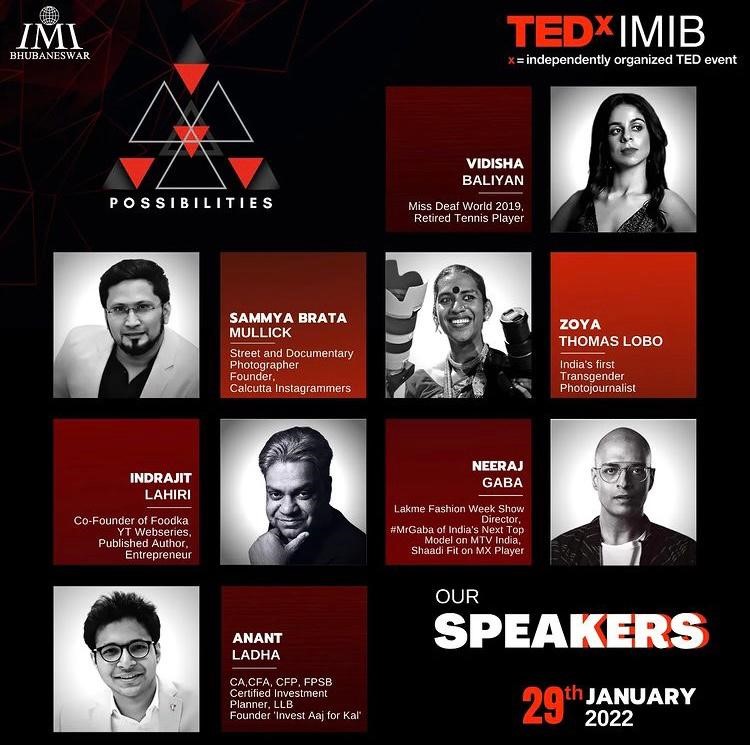 "Turn your obstacles into opportunities and your problems into Possibilities" -IMI Bhubaneswar's independently organized TED event was a massive hit, with "Possibilities" as its theme. The Tedx-IMI B's team made it possible to bring speakers from diversified fields from a multitude of domains.
Indrajit Lahiri, an entrepreneur by profession, pursued his passion for photography and became acquainted with the streets of Calcutta. But somewhere in the middle, he wanted to launch a blog called Moha-mushkil, which means "a lot of trouble" in the Bengali language. This covered largely his gourmet and travel adventures. His blog has been featured in numerous locations and on multiple occasions. Mr. Lahiri's first book, Food Kahini, was published in 2019 and is available on all major bookselling platforms. He goes on to say that this is something he enjoys doing. Apart from that, he is the co-founder of "Foodka Series," one of the most popular online series on food. So far, he has talked about his journey in the session. The session was quite enlightening and interactive.
Mr. Anant Ladha, is a distinguished entrepreneur, financial expert, who is a qualified CA, CFA, CFP, FPSB Certified Investment Planner, LL. B. He shared his interesting journey with us wherein he had let go of a high-paying job opportunity from a multinational giant to follow his dreams. He is also the founder of the widely known YouTube channel "Investment Aaj for Kal" which is mainly related to the financial world. In his talk, Mr. Ladha mentioned 3 crucial things which are very important for freshers entering the stock market- to never invest in overconfidence, investing without a process is like skydiving without a parachute. Lastly, he advised the students not to compromise on their study time for tradinging as the market will always be open, and what is more important is to build oneself up. The session was helpful, informative, and insightful.
Ms. Vidisha Baliyan was crowned Miss Deaf World in 2019 and has achieved incredible feats in her life. She was awarded the National Disability Awards by the Vice president of India in 2019. She is also a renowned tennis player and has represented India in the 23rd Deaflympics in the year 2017 and had secured 5th position in the same. Apart from that, she has also been a silver medalist for two consecutive years that in 2016 and 2017 in the National Games of the Deaf for lawn tennis. She spoke about her journey and all the difficulties that she faced. But she truly believed in, "It's all about believing in yourself and turning your obstacles into possibilities." It was an enriching session indeed.
Zoya Thomas Lobo, the first transgender photojournalist enlightened the audience on "how her whole life has been a conversion of impossibilities to possibilities". She narrated the various amazing stories of her life and told us that unless we are determined enough to reach our goals everything seems impossible but if you make the strong way and mentality within yourself, things will become possible. She also stated that being trans is not a punishment, they are normal as others. The question that always keeps her motivated is that "If others can do why can't I". She concluded her talk by saying that that society needs to give opportunities to trans and went ahead in requesting their families to support them.
Sammya Batra Mullick is a PwC manager, art and photography curator, and TEDx speaker. He is a passionate award-winning street and documentary photographer who has also been a published author in three book projects. On January 29th, at TEDx-IMIB he briefed the audience on his beautiful journey. As a child, he liked bringing attention to the insentient, which drove him to write autobiographies as an adult. Mr. Mullick had also written his autobiography, which included multiple categories of information for readers to link with. Through this, he expressed his thoughts on taking photographs. "Clicking Pictures with layers is not possible without knowing your content,"
Neeraj Gaba popularly known as Mr. Gaba is a public figure who had been a part of various TV shows. He has also been a runway director of Lakme Fashion Week, Hamley's Ramp Camp's Ambassador & Mentor. Apart from this, he completed his MBA from Leeds Business School and has over 20 years of diverse work-life experience across North America, the UK, Singapore, Australia, and India. He explained that possibilities are all about likelihood and chance and that there are no possibilities without a chance. Furthermore, he said that we should only focus on the best-fitting jobs; only then we will be able to advance in the right way. Many things come to us but are not destined for us, and for these unwanted opportunities, one should learn to say no. He told the audience to polish their distinctiveness so that they realize they are the masters of their fate.