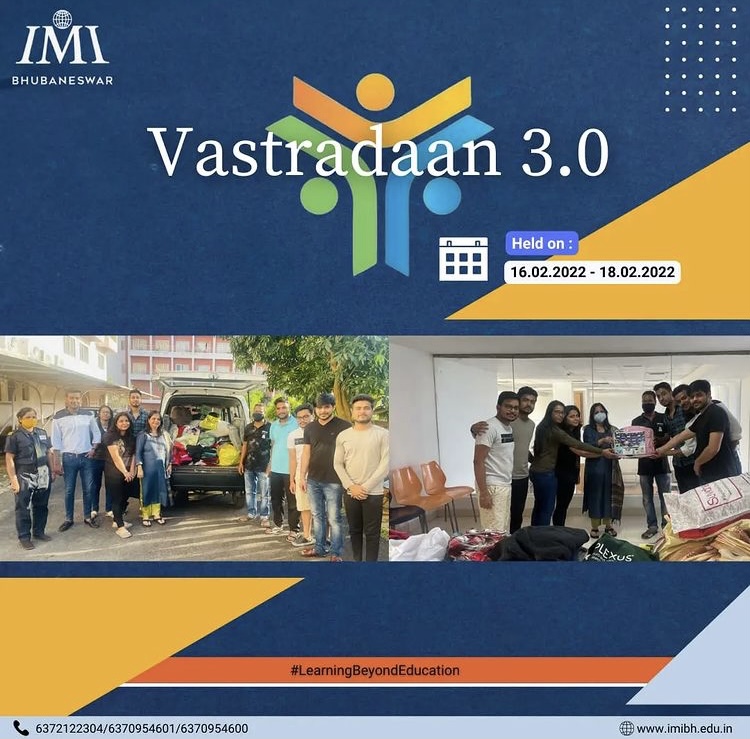 VASTRADAAN 3.0
"We can't help everyone, but everyone can help someone." Dr Loretta Scott
With this motive in mind, the Prayas club of IMI Bhubaneswar organised a donation drive called "VASTRADAAN 3.0," from 16th to 18th Feb 2022. This event was a real success in spite of being organized amidst the pandemic related restrictions.
The members of Prayas Club contacted "Kindness Hub" an initiative undertaken by Bhubaneswar Municipal Corporation (BMC), to distribute the clothes to the unprivileged and needy which was donated by the various students and faculties of IMI Bhubaneswar.
The students as well as the faculties of IMI Bhubaneswar demonstrated remarkable zeal and were enthusiastic about donating clothes to the best of their abilities. The total number of clothes generated was enormous, as the Van which arrived at the doorsteps of our campus from Bhubaneswar Municipal Corporation (BMC) was completely loaded with clothes in it.
This event could not have been possible without the efforts laid down by the Students, Faculties & Prayas Club of IMI Bhubaneswar. The Member Secretary and the Club members worked hard to make this event possible and are committed to organizing more social activities in the near future.