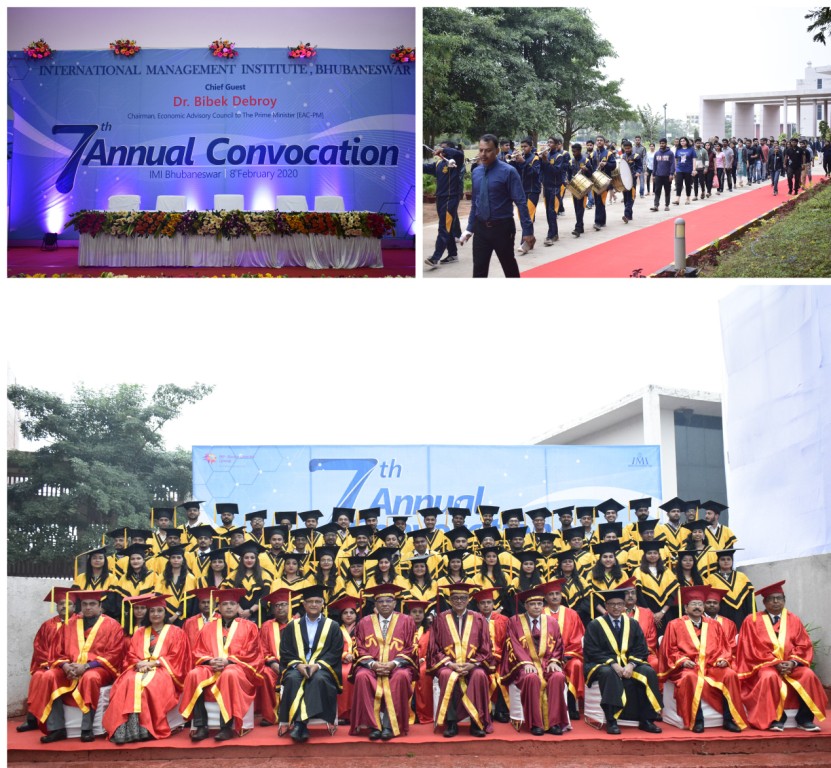 'It all began with a sunny day, queues of students in a yellow gown and black graduation cap, marching, overwhelmed with emotions, remembrances down the memory lane and back to the moment of truth that gave a stepping stone to the real world. After two noteworthy years, it was finally the time to step into the bright light, shake hands with the Chief Guest and grab the ticket to freedom. It was not just a piece of paper; but an emblem of aspiring dreams. Yes, it is the Convocation Day.'
IMI- Bhubaneswar congratulated the entire graduating batch of 2017-19 on the day of 7th Annual Convocation held on 8th Feb 2020 in the college campus. The event dazzled with the beaming faces of graduating students. The event was graced with the presence of chief guest Dr. Bibek Debroy, Chairman, Economic Advisor Council to the Prime Minister (EAC-PM), Mr. V. C. Aggrawal, Group President (HR), RP-SG group, the Director Prof. Ramesh Behl and other dignitaries, faculty members, staffs and students of IMI Bhubaneswar, parents of the students of the passing out batch and media representatives. Dr. Bibek Debroy enthralled the audience with his powerful speech.
The event also felicitated outstanding students who showed their excellence in learning and were consistent with their efforts. The award for 'Institute Model for Outstanding Scholarship Performance PGDM 2017-19' was given away to 'Gold Medalist Sabrina Gupta' and 'Silver Medalist Apurva Tiwari'. The award for 'Certificate of Merit for Outstanding Scholarship Performance PGDM 2017-19' was achieved by Sabrina Gupta, Apurva Tiwari, Sadhanala Srikanth Ashwin, Aashish Vikal, Mohit Mukesh Tiwari. The medal for 'Dr. Rama Prasad Goenka Best Student for all round Performance PGDM 2017-19' was given to Mohit Mukesh Tiwari. The award for 'Director's Medal for Overall Contribution to the Institute' was achieved by Atisha Tayal. The 'Best SIP' awards were achieved by Subham Rathi and Sadhanala Srikanth Ashwin.