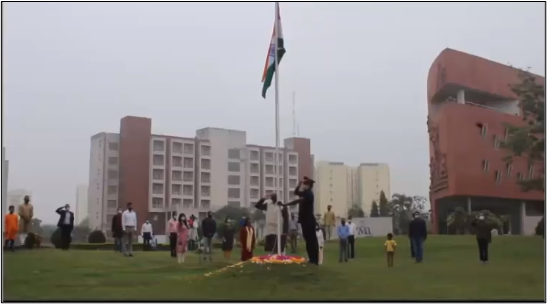 While India gained independence from the British in 1947, it wasn't until 26
th
January 1950 that the Indian Constitution came into effect and India became a sovereign state, declaring it a republic.
As India witnessed 72nd Republic Day, the students at IMI Bhubaneswar took the pledge together, virtually in this new normal, to serve and make India a much greater place to live in. The event started with the ceremony of hoisting the Indian National Flag by Prof. Ramesh Behl, Director (IMI Bhubaneswar). After the flag hoisting, he addressed the students and reminded everyone of the responsibilities they have on their shoulders to make the country proud, even with their small actions. He also stressed on the need to respect our environment and make every possible effort to keep it clean and healthy. We must sustain what we have received from our forefathers and add glories to it.
It was also on this day that some of its students, of batch PGDM 2019-21, were awarded merit scholarships for their outstanding cumulative academic performance at the end of their first year. The first rank holder of the batch was Pritam Ghosh, the second rank was held by Saurabh Nair, and the third rank was by Priyanka Chaudhary. The event was concluded with tree plantation.