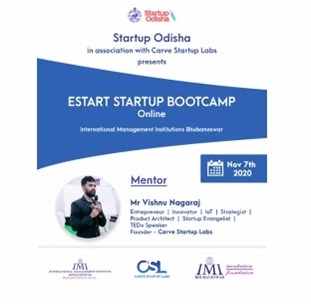 Entrepreneurship is a mindset that does not fall prey to risks. An entrepreneur is a person who always looking for a new, unique solution. Their ideology- creating what matters to their customer.
IMI-B has been continuously promoting entrepreneurship among its students by organizing various events from time to time. In association with Carve Start-up Labs on 7th November IMI-B organized an entrepreneurship boot camp infusing insights in students about entrepreneurship. During the event, while students discovered the budding entrepreneur in them, they also had the opportunity to share their ideas and vision with experts. It started with an inaugural address by Mr. Vishnu Nagaraj, an entrepreneur, founder of Carve Start-up Labs. Where students were briefed about the business canvas model and how to redesign that model after knowing the customer requirement. This was followed by the speech of Mr. Siddeshwar Panda, chief executive officer at Magic wall talked about the story of Magic wall, how he found various value-driven products based on customer demands. Another speaker Mr. Rashmi Ranjan Sahu, Sr. Mission Associate at Startup Odisha also spoke and familiarized students about the flourishing start-up ecosystem, idea evolution techniques, and their commitment to providing with funding, guidance as well as helping them to cultivate principled leadership skills.
There was a Q&A session at the end. The Boot Camp was very engaging as the students participated in full spirit.