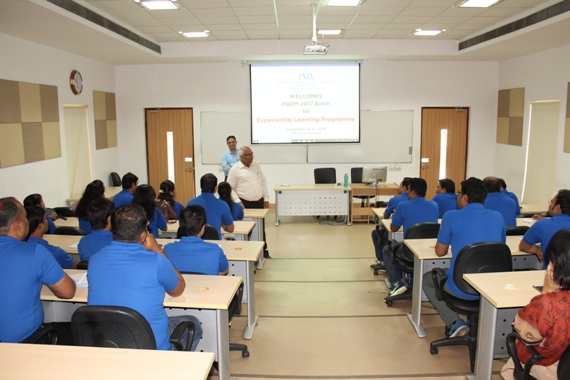 Experiential Learning Program for Working Executives of Vedanta Ltd.


IMI Bhubaneswar conducted a "5-Day Experiential Learning Program" from 18th September, 2018 to 22nd September, 2018 for its PGDM Part Time Executive Program students who were the working executives of Vedanta Ltd. having industry experience in the range of 5 to 20 years. This program is scheduled to be conducted twice in their two-year of course duration. This month the first batch comprising 22 students were part of the program and a same program for the rest of the students will be conducted in December 2018.
The program included value oriented capacity building exercises and activities including team building activities, corporate talks, yoga sessions, design thinking activities, outbound activities and various other sessions which were carried out by different faculties of IMI, Bhubaneswar and other invited renowned experts. The sessions were designed to enhance the performance of the executives in their own domain utilizing the class learnings which these students receive during their course besides honing their leadership skills and team spirit.
Through this program the Part Time Executive Program students also got a chance to interact with the PGDM regular students. It was very interactive session wherein the Part Time Students shared their experiences of their journey in Vedanta and the various challenges faced by them in the corporate world. The regular batch students were exposed to the way company operates for profit taking the society along with its progress. The interaction of the regular PGDM students helped the students to gain more knowledge and get solutions to their queries. The session ended on a positive note that to be successful one really requires passion, hunger and desire.