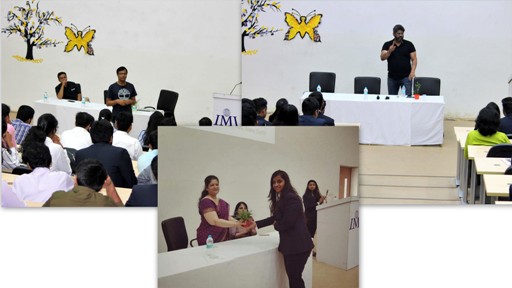 Guest Lecture Series at IMI Bhubaneswar


IMI Bhubaneswar believes that the students should be in constant touch with the corporate world so various guest lectures by invited eminent experts are often conducted in the campus. This month there were three such guest talks.
Mr. Aman Jain who is currently doing his Fellow Program in Management from IIM, Kashipur enlightened us on August 26, 2018 with his knowledge about the understanding of business world as he himself is the Head of Learning and Development at VF Corporation, Bengaluru. Among various insights about the corporate world one most important lesson he taught us was the way we should present ourselves in the organization and how to respond to persons belonging to different hierarchy in an organization. Apart from this he gave us a lesson on how we can measure our strength and weakness by making use of MBTI Test and how to maintain a work-life balance, as he himself is associated with various Young Development Programs and Outbound Facilitations.


"It's not a compliment its harassment" the exigency elevated by Dr. Mamata Mahapatra, head MDP and executive education in IMI Delhi on August 25, 2018. The situation endured by most women in workplace nowadays engender the most critical issue of gender inequality, where women faces this disparity not only in home but also in workplace. She emphasized on ICC (internal complaint committee) which is present in every organization, wherein women can raise her voice if she thinks her rights are being violated in any organization. With this she succinct on the vishaka guidelines and sections of IPC governing sexual harassment. In the session she made the students of IMI Bhubaneswar more cognizant about the ICC which has been renamed as Gender Sensitization Committee against Sexual Harassment (GSCASH). She was glad to know that our college also has an actively working ICC that look after such concerns.


"Knowing yourself is the beginning of all wisdom" was the opening line of Mr. Uday Kiran, National manager for talent acquisition from Reliance Capital. He had an interacting session on September 1, 2018 with the students on the topic "In-charge of Yourself", where the students were asked present their views as to who they think to be the in charge of their lives. Further in the session he apprised the students about "what is urgent and what is important", in individual's life and how one should prioritize things in order to develop. "Making short term goals with right set of attitude, intent and achieve them" is the agenda of long term success and "First deserve then desire" were the lines quoted, as in today's generation there is no fear of consequences they can try as much they want to develop the skills in them. It was a motivating session which aimed to pled students to come out of their comfort zones to achieve their goals in life.