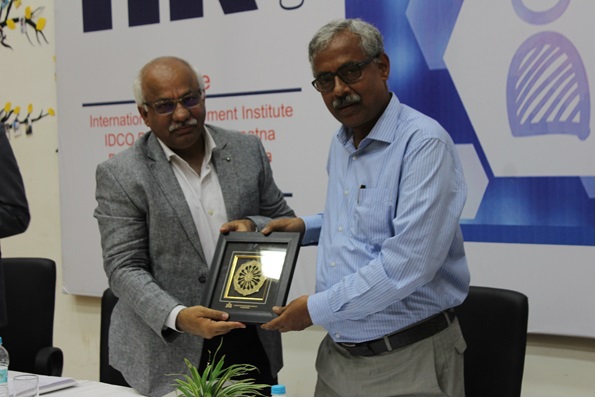 On 28th September 2019 International Management Institute, Bhubaneswar organized its 1
st
HR conclave and the chief guest was Mr. B.K. Thakur, Director Human Resources (NALCO). The theme of the discussion was "Organisational Excellence Through Human Capital" and various HRs from various industries were invited such as JK Papers, Fab Hotels, Kotak Mahindra Bank to name a few. The discussion was organized in 2 panels.
The 1st Panel was headed by Prof. Bindu Chabbra and topic of discussion was "Aligning HR Strategies with Business Strategies Mr. Hemant Sethia, Vice President (Credit Suisse), Mr. Vivek Jain, Executive Vice President-HR, (Kotak Mahindra Bank Limited), Ms. Sharmistha Ray Chowdhury, Chief Manager-Head HR (Power Exchange Limited). Mr. Sanjeev Das, Senior Vice President&Head Business Unit Mines (IMFA Limited), Mr. Kanishk Das, Associate Vice President (Muthoot Fincorp Limited).
The 2nd Panel was headed by Prof. Kapil Pandla and the topic of discussion was "Leveraging Employee Experience with Customer Experience". The panelists were Mr. Girinarayan G, Director and HR Mentor (Corporate Cognition India), Mr. Ansh Joshi, Head HR (Fab Hotels), Mr. Manik Kinra, Founder (Pin click), Mr.Abhishek Kumar, Director HR (JK Paper).
The conclusion drawn from these two panels discussions was Mission and Vision are the important things for the smooth functioning of an organization. Also, Employees Engagement and Organisational Commitment is one of the things that employees are lacking in towards and organization.