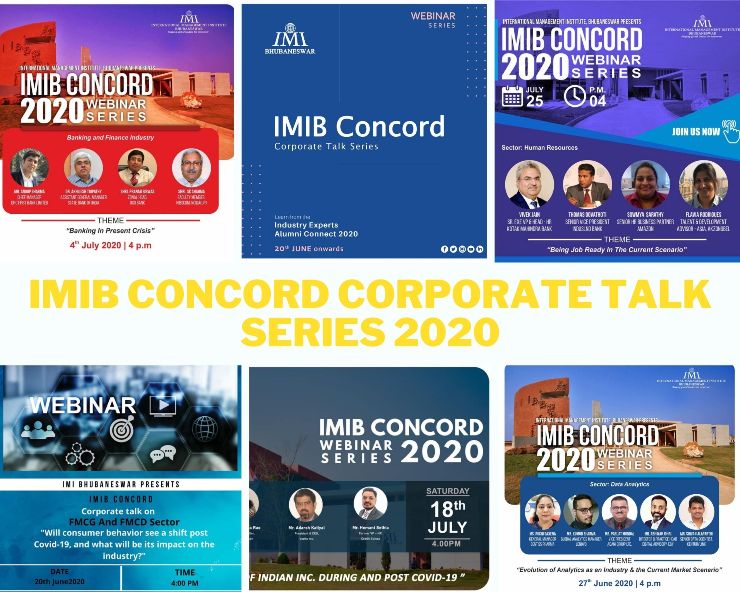 Adapting to changes keep us growing, and this pandemic has been one such situation, letting us experience the unexpected. Aligning with the upcoming roles, implementing new strategies and accepting the ongoing challenges is the way to accept change.
IMI-B with this view came out with a series of webinars titled 'IMIB Concord Corporate Talk Series'. This talk series connected students of IMI-B with industry experts and alumni of IMI-B on a common platform to get an idea about the current corporate situations in Covid19 and to restructure the working policies and working environment as per future requirements.


IMIB Concord 1.0:Presenting the first event of IMIB Concord Corporate Talk Series, IMIB Concord 1.O live session was organised on 20thJune,2020. It focussed on the FMCG(Fast Moving Consumer Goods) & FMCD(Fast Moving Consumer Durables) sectors. The theme for the talk was 'Will consumer behaviour see a shift, post Covid19, and what will be its impact on the industry?'. The event had eminent speakers suc as Mr. Rajan Verma (GM Marketing, JK Laxmi Cement), Mr. Abhijeet Rastogi (Head Trade Marketing, consumer products, Bajaj Electricals), Mr. Dhiraj Kunder (Alumni, Consumer Insights, Assistant Manager, Unilever Group) & Prof. Manit Mishra (Faculty, Associate Professor, Marketing IMI-Bhubaneswar.
IMIB Concord 2.0:Presenting the second event of IMIB Concord Corporate Talk Series, IMIB Concord 2.O live session was scheduled on 27thJune, 2020. The theme for the talk was 'Evolution of Analytics as an Industry and the Current Market Scenario'. Deliberated upon by stalwarts from the industry like Ms. Ruchi Saxena (General Manager, Sentiss Pharma), Mr. Parijat Mondal (Vice President Adani Group Limited), Mr. Abhinav Johari (Director & Practice Head- Digital Advisory EY), Mr. Kumud Sharma (Global Analytics Manger, Lenovo) and Mr. Shivaji Alaparthi (Senior Data Scientist, Century Link). This event focused on Data Analytics. With the pandemic threatening field related jobs, Analytics might be a blooming option for graduates in the current scenario.In the discussion speakers talked about the importance and evolution of analytics - how analytics have evolved over the years, from data visualization to data science and data architecture,and its application in the pharmaceutical industry, AI, etc. and how analytics have shifted from a peripheral role to central role in businesses.


IMIB Concord 3.O:IMIB Concord 3.O, scheduled on 4thJuly, 2020, focused on banking and finance industry. The theme for the talk was 'Banking in Present Crisis' with four eminent speakers on board- Mr. Anoop Sharma (Chief Manager, IDFC First Bank Limited), Shri SK Sharma (Faculty NIBSCOM), Shri Pranab Biswas (Zonal Head, UCO Bank) and Dr. Akhilesh Tripathy (AGM, SBI). The discussion revolved around the crisis in the banking industry amidst a global slowdown of 5.2% in the world's economy and India's economy shrinking by 4.5%, an unprecedented crisis in the last over 60 years. They also discussed practical problems in the branch offices such as how to maintain social distancing, effective utilisation of the premises, digitalization of processes, and use of internet banking and other points of sales.


IMIB Concord 4.O: This webinar was held on 18th July 2020. The topic of the webinar was "Strategy of India Inc. During and Post Covid19". The panelist were Mr. Adarsh Katyal President and CEO of Varite INC., Mr. Sandeep Tayagi (Director HR Samsung), Ms. Sunanda Rao Managing Editor Career Beacon, Mr. Hemant Sethia Former VP HR Credit Suisse and Mr. Debashish Chakraborty, CEO London Strategy and Consulting group. They discussed about the current job scenario, Suraksha Setu app and its use particularly by retail sectors, corporate policies during the pandemic situation, importance of communication skills and certification courses for students in the pandemic and so in.


IMIB Concord 5.O: IMIB Concord 5.O was held on 25th July 2020 with the topic "Being job ready in the current scenario" and speakers Mr. Vivek Jain (Sr. EXE VP & head-HR Kotak Mahindra Bank),Mr. Thomas Govathoti(Senior Vice President Induslnd Bank), Ms. Sowmya Sarathy(Senior HR business partner Amazon), Ms. Flavia Rodrigues (Talent and Development Advisor- Asia, Akzonobel). Speakers emphasized on how the students should spend their time on developing skills during the crisis and also made students aware about the policies implemented by the companies to insure safety of their employees and assure continuous functioning in this pandemic.