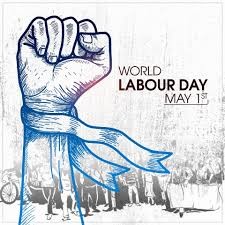 INTERNATIONAL LABOUR DAY
1st of May is celebrated as InternationalLabour day dedicated to all the workers and labours across the world. On this day we celebrate the workers and labours and march for their rights against exploitation. It originated from an eight-hour labour union movement. It is celebrated in countries like India, China, Cuba among others and is a public holiday.
This day originated as a union movement in the US around the 19th century. A resolution was adopted by the Marxist International Socialist Congress demanding the workers not to be made to work more than 8 hours and since then it became an event and continues to be celebrated on May 1 as Labour Day. It celebrates the achievements of people and honors their hard work across the world.
In Europe on July 14, 1988, the International Congress of Socialist Parties declared May 1 as 'workers day of international unity and solidarity for workers in Paris and 1890 being the first time May Day was celebrated.
In the case of India, the first Labour Day was celebrated in Chennai in 1923. The red flag was first used at that time too in India. Observed by the LabourKisan Party of Hindustan, on this day, the communist leader MalayapuramSingaraveluChettiar asked the government that this day be considered as a national holiday. This was done as a symbol for considering the efforts and work of labours and workers. Some other names for this day are Kamgar Din, Kamgar Divas and AntrarashtriyaShramik Divas in India.
Labour Day is celebrated on the first Monday of September in the US and Canada.