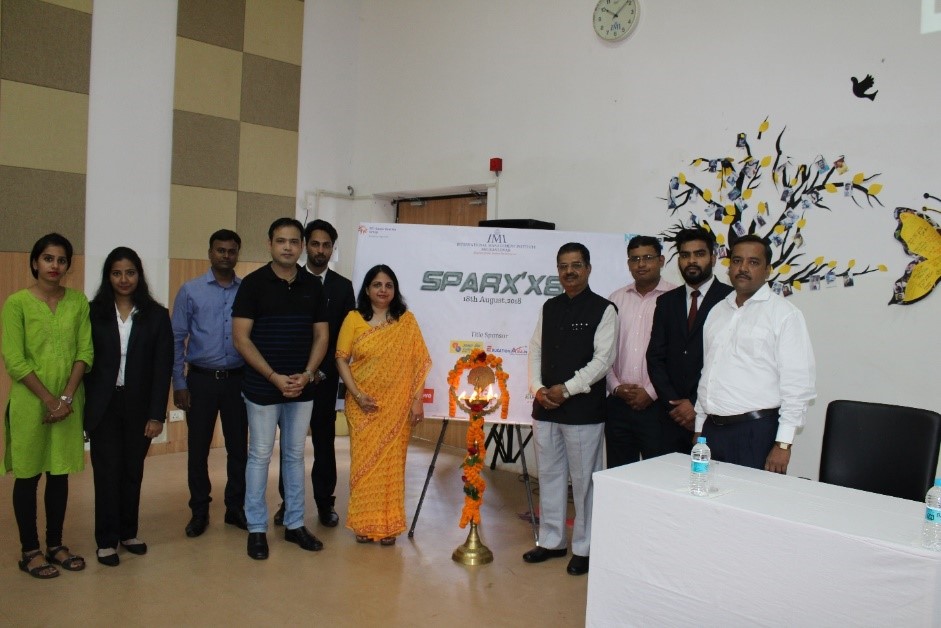 The flagship business management fest of IMI Bhubaneswar, SPARX- 'X8 was successfully organised this year on 18th August 2018. More than 200 students from various institutes and universities across the city of Bhubaneswar participated in seven different competitions of the event. Besides organizing such a grand event, IMI also conducted a plantation drive in collaboration with Mahindra Finance. The event ended with the felicitation of all the winners of the events and award of cash prizes and coupons. The various competitions held were briefed below.
Quest the ladder: It was an event of fun and intellect where the participants had to develop a funding plan for their business. The student team comprising of Mr. Abin Baby, Mr. Abhishek Garadia and Ms. Nikita Agrawal of Birla Global University took away the first prize.
Launch and Accelerate: In this event participants had to launch their business idea and develop their business plan. Mr. Abishek Mohapatra, Ms. Bithika Bhanja, Ms. Pallavi Sahu and Mr. Shubham Pradhan of Utkal University claimed the first prize in this competition.
B-Quiz: B-quiz that has always been a flagship event of IMI Bhubaneswar, was conducted with the unmatched enthusiasm in the pursuit of business related general awareness. Mr. Alankar Devta of KIIT, Bhubaneswar and Pubali Mazumdar of IMI Bhubaneshwar were the joint winners of this competition.
AD Mad: This competition needed the participating teams to be innovative and unorthodox in creating advertisements that were humorous, informative, witty and must be related to the assigned product. This competition was won by Ms. Atisha Tayal, Mr. Mohit Tiwari, Mr. Sanchit Kumar Verma, Mr. Sarvagya Behl, Ms. Survi Shah of IMI Bhubaneshwar.
Destruct to Reconstruct: This was a case-study analysis competition in which the participants had to analyze flaws and come up with robust ideas to rebuild their stance. Mr. Ritesh Pandey of IMI Bhubaneshwar claimed the first position in this competition.
Carpe Diem: It was an HR based competition in which the participants had to clear the aptitude round in order to appear in the final interview round. Mr. Mayank Jalan of IITTM, Bhubaneswar won the first prize in this competition.
Intelligent Investor: It was an online-competition which attracted around 232 participants from the various management institutes across the country. It was based on the theme of stock-trading which was conducted over a period of 5 days i.e., from 13th August to 17th August, 2018.
Both the host institute students and the visiting students gracefully participated in different events and made SPARX'X8 a great success and a moment to cherish. The event ended with a propelling speech and a vote of thanks to the Director of the institute, faculty members, supporting staff, organizing student members and the event coordinators