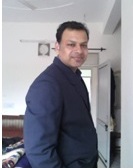 Mr. CHETAN GUPTA holds a Diploma in ELECTRICAL ENGG and a PDGBM degree. He has 11.5 YEARS experience in the education industry.
Born and brought up in Bhatinda, Punjab his father was head of the dept. of English in DAV college, Bhatinda and mother a teacher in Govt. school. His sister is a Professor of eminence with a private university in Punjab. He started his career as a sales officer in Ludhiana and later joined an educational institute in Punjab in the field of administration. He has worked for companies LIKE TATAPRESS, INDIAMARKETS.COM, DESH BHAGAT UNIVERSITY, MODEX INTERNATIONAL at various profiles with a total work exp. of over 16 years.
His wife, an MBA is running her own coaching center and they are blessed with two children. His hobbies are adventure sports, and driving.
We welcome him to the IMI family and we wish him many years of fruitful and productive stay at IMIB.