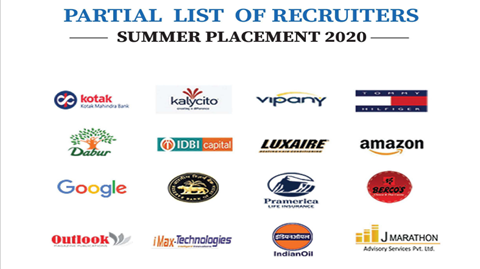 Every year the students of PGDM undergo a mandatory summer internship process wherein they go to industries to do a two month long project during their summer break. The summer internship process began in April, 2021 for the students of 2020-22 PGDM batch to give them the appropriate exposure and confidence regarding the corporate culture. Sometimes, they are offered final placements by their respective companies as well if they perform exceptionally. Despite the pandemic, 100% of the students were placed in various prestigious organizations. Not to mention that the summer placements were completed in the month of January as well due to the exceptional faith that the companies had reinstated. The students were placed in many reputed and esteemed organizations that include Reserve Bank of India, Amazon, Dabur, Kotak Mahindra, Tommy Hilfiger, DTDC, IDBI Capital, Tata AIG and many more.
These internship opportunities were offered by 40+ recruiters across various cities pan India. However, the sudden rise in Covid cases forced some students to carry out WFH (Work From Home). The industry exposure is a prerequisite to MBA students for their all-round holistic development. SIP (Summer Internship Process) helps a student to apply the classroom learning to real life problems, learn from corporate mentors and get a clear vision about one's career. IMI Bhubaneswar has witnessed a growth as students have got better profiles and projects across the industries.
Since a good number of companies participated in the process, the students were quite satisfied with their profiles and companies as they had quite a few options to choose from. Being very enthusiastic about their new job roles, they would supposedly be performing very well in their field of work.