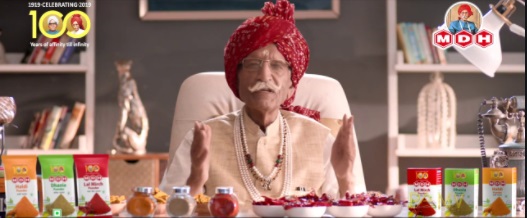 On
3rd of December, 2020,
we lost the king of spices,
Mr. Dharampal Gulati,
the owner and founder of
MDH spices (Mahashian Di Hatti).
He was the smiling face of the ads of MDH with the tagline
"Asli Masale Sach Sach, MDH, MDH".


Mr. Dharampal was born in Sialkot (present-day Pakistan) in 1923. He used to undertake meager jobs in his childhood like carpentry, rice trading, and selling hardware. Later on, he joined his father's spice business. After the independence in 1947, the family was forced to move to India and Mr. Dharampal started his business as a small store in New Delhi giving the name 'Mahashian Di Hatti' (MDH). He continued doing the business and gradually MDH became a renowned brand all over India. Due to his rigorous efforts, he established the business with great success in the spice business. His own image, wearing an ethnic red turban, were featured in all the spice packages and also in advertisements.
Mr. Dharampal was also keen on doing social activities like founding 20 schools for promoting primary and secondary education. He also set up a 200-bed hospital for the poor in New Delhi and a mobile hospital for slum dwellers. Mr. Dharampal had been awarded Padma Bhushan, India's third-highest civilian honor, in 2019.


Mr. Gulati died of cardiac arrest at the Mata Chandan Devi Hospital in Delhi. He was 97. It was a great loss to the nation to lose such an exceptional soul like him. India will fondly remember its ever-smiling, "MDH waale Dada Ji".