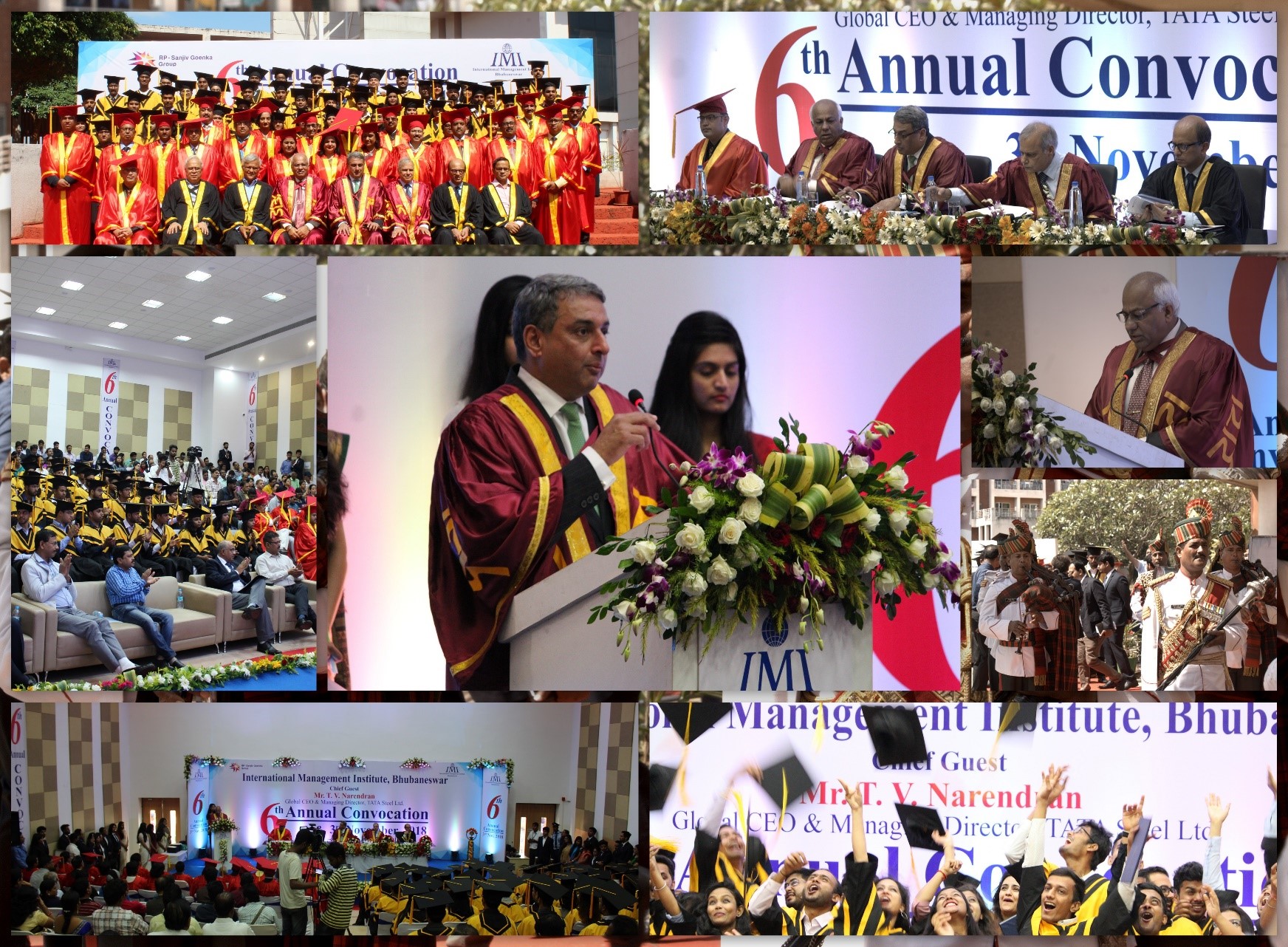 Smiles shone on the faces of IMI Bhubaneswar 2018 pass outs as they reaped the reward of years of hard work and study. Clad in black caps and gowns, the students gathered at IMI to celebrate their graduation on 3rd November, 2018.


Mr. T.V. Narendran, the Global CEO and Managing Director of TATA Steel Limited delivered the convocation address as the Chief Guest of the event. The PGDM 2016-18 and PGDM (Part Time) 2014-17 batch of IMI-B were conferred upon the Post Graduate Diploma in Management.
Mr. T.V. Narendran, the Honourable Chief Guest, presented the Gold Medal to Chandrapati Sesha Sai Padmakanth and Silver Medal to Paridhi Sharma for their outstanding performance in the PGDM batch 2016-18. Sudakshina Mukherji got Dr. Rama Prasad Goenka 'Best Student Medal' and Rishi Rajeev Jain received the Director's medal for overall contribution to the Institute. Professor Himadri Das, Director General of IMI Delhi awarded the certificates to the top five students of PGDM 2016-18 batch.


Mr. T.V. Narendran in his Convocation address congratulated the PGDM 2016-18 batch for successful completion of the PGDM program. He began his speech in a nostalgic timbre quoting "A lot has changed", the world is getting quicker and better day by day. He highlighted on four things which are important to be kept in mind while entering into the corporate world. The first one is Technology- The nature of competition is going so aggressive that the industry is getting disturbed, it is changing hastily. The second point is about sustainability, of how an investor's opinion is associated with environmental factors. The third point he talked about was of inequality in the society. The last but not the least he spoke about the dynamics of geopolitics. New complexities, new outcomes, economic deficits effect the strategies of the company. He ended his speech by saying- "Enjoy what you love and then nobody will ever be able to beat you."
In the beginning, Professor Ramesh Behl, Director, IMI Bhubaneswar presented Institute report and welcomed the guests. He highlighted the Institute's achievements in terms of research publications, MDPs/FDPs and research projects. He highlighted the structural changes made this year in curriculum in line with Education 4.0 and to meet the demand of the Industry. New emerging areas such as Analytics, Blockchain Technology, Digital Marketing, Artificial Intelligence etc. have been added in the structure.
Mr. V C Agarwal, President Corporate HR and Board Member, RP Sanjeev Goenka Group in his address advised graduating students not to carry baggage of the past to get a long-term success.
Over 400 dignitaries from academia, senior government officials, leaders from the corporate word, members of Board of Governors of IMI Bhubaneswar as well as the parents of the graduating students attended the event.