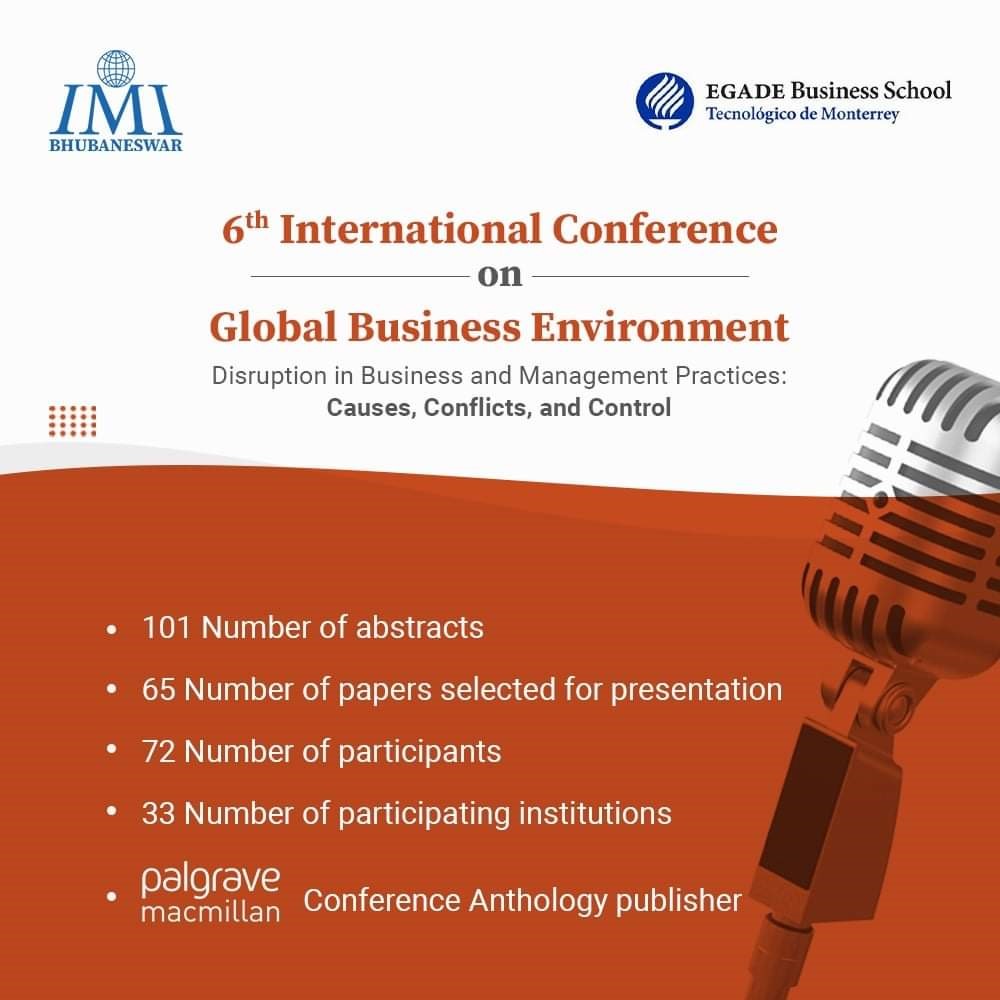 It is our proud privilege to share with you that International Management Institute (IMI), Bhubaneswar, Odisha, India and EGADE Business School, Mexico City, Mexico organised 6
th
"Global Business Environment" (GBE) International Conference on
"Disruption in Business and Management Practices: Causes, Conflicts, and Control"
" during
11-12 December 2020
.
This was the 6
th
edition of the International Conference and it attracted researchers from premier institutions in India and abroad every year. On an average, around 100 researchers presented their research during this annual 2-day conference. The Conference was associated with the journals
Global Business Review
(SAGE),
Emerging Economy Studies
(SAGE), and
International Journal of Business Competition and Growth
(Inderscience) for post-review publication of articles. The Conference also publishes the Conference Anthology of selected papers presented each year in association with Palgrave Macmillan, NY, US. The papers presented during the 4
th
GBE Conference have been published in SCOPUS indexed anthology entitled "Innovation, Technology, and Market Ecosystems: Managing Industrial Growth in Emerging Markets." Similarly, paper presented during the 5
th
GBE Conference have been published in the anthology entitled "Entrepreneurship and Regional Development: Analysing Growth Models in Emerging Markets," which is in the process of SCOPUS indexation.
There were a total of 9 technical sessions along with workshops conducted on Day 1 & Day 2. Coupled with 65 types of research, the conference was split into two insightful days. Various leading faculties of renowned colleges across the nation and worldwide participated in this discussion. The event was chaired by Prof. Rajagopal, Professor and National Researcher – EGADE Business School and Visiting Professor, Boston University and Prof. Ramesh Behl, Professor and Director, IMI, Bhubaneswar. Prof Behl in his speech, threw light on the pandemic and tech disruptions caused by it, and its effects on political, social and personal life. Mr. Rajgopal laid focus on the subject of business systems and talked about the concept of welfare marketing and how disruptions are not always positive but can have positive outcomes. Via this International conference, aspirants gained an exposure to a rigorous pool of information and direction for their career.