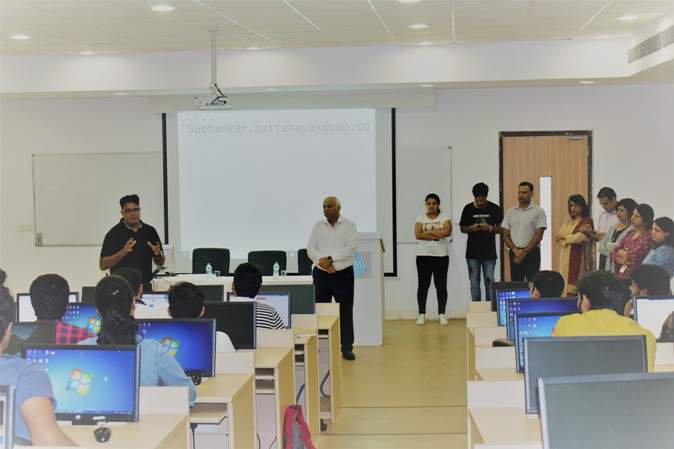 SAP Day @ IMI Bhubaneswar
"SAP Day" event was conducted by Mr. Rahul Sachdev, the head of SAP Next Gen University Indian Sub-Continent on 23rd August, 2018 at IMI Bhubaneswar. Our institute has been in collaboration with SAP Next-Gen since 2007. On this occasion, Prof. Ramesh Behl, Director of IMI Bhubaneswar along with Ms Bobby Patnaik, Manager- Employee Relations, Infosys Bhubaneswar and Mr Rahul Sachdev inaugurated the SAP Next Gen Lab and the SAP Next Gen Girls Lounge, which is the first in India.


During this one day event students were taught about business analytics with a focus on how to forecast demand and make use of enormous data by using SAP Analytics Cloud tool. Parallel to this data analysis, other programmes were also organised to give the students an idea about the developments in the world of technology and design thinking. Mr. Rahul Sachdev also shared his insights about the basic support system for a start-up that is driving innovation, desirability, feasibility and viability. An activity for Sustainable Development Goal was also conducted to give solution to various emerging and unavoidable business risks and problems.


Later in the day Ms. Patnaik also addressed the girl students and women of IMI Bhubaneswar in a seminar-'She Innovates'. 'She Innovates' is an initiative to accelerate the advancement of women and girls in innovation, technology and entrepreneurship. She emphasised the importance of self faith, goal perseverance and endorsement of achievement among other stakeholders and inculcation of a right attitude for taking risks.