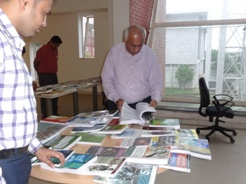 IMIB library organized a book exhibition from 18- 19th September 2017, through which IMIB library user got an opportunity to finalize latest & newly published books in Text Book, Fiction Book and Non Fiction categories.


The exhibition venue was A- block First Floor and two renowned Booksellers & distributors of Bhubaneswar city had displayed new collection of Academic Books, Research Books,, Fiction and Non- fiction. They were- Oxford Book Store and Amit Book Depot
Sales Representative of SAGE publications and SENGAGE learning were also present for the complete event.
Books of renowned publishers like Tata Mcgraw Hill, OXFORD University Press, S. Chand Publications, Pearson Education, Wiley etc. were on the display.
Almost three hundred titles were selected to be a part of IMIB library as suggested by Students, Faculty& staff of IMIB