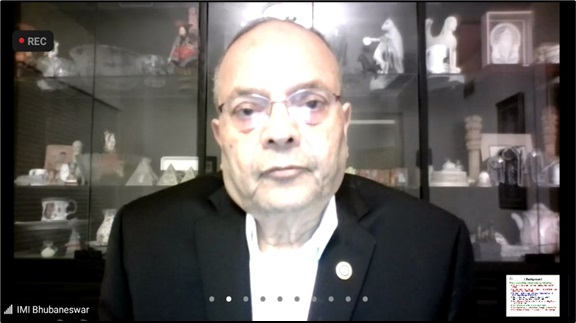 It was an immense pleasure for us to host Prof. Manu Vora, Chairman & President, Business Excellence Inc., USA, who delivered a career development talk on 5th of November, 2020. Prof. Vora shed light on the very fundamentals of learning by explaining the 'Learner Engagement Model', which worked on the four basics – Involve, Learn, Apply and Share. Prof. Vora talked about the importance of soft skills and the need to enhance it because of its rising demand in various reputed companies. He explained how communication is one of the most important soft skills and one's success is largely dependent on it. He went on to enumerate the use of decision tree in decision making processes.
The next vital thing that was discussed was about effective teamwork and also the dysfunctions that could creep in. These might include inattention to results, avoidance of accountability, lack of commitment, fear of conflict and absence of trust. Further topics included problem-solving skills and effective time management which could be attained by following the four basics of doing, deciding, delegating and deleting.


Prof. Vora also enlightened about the need of doing community service citing the saying of Shree Pandit Madan Mohan Malviya that goes by "Knowledge without humility is worthless". He talked about his own foundation, BFI (Blind Foundation of India) that has conducted over 2 lakh free cataract operations and over a million free eyesight checkups.
The whole lecture was very a motivating and appealing experience as the students learnt a lot of ideas to live by.