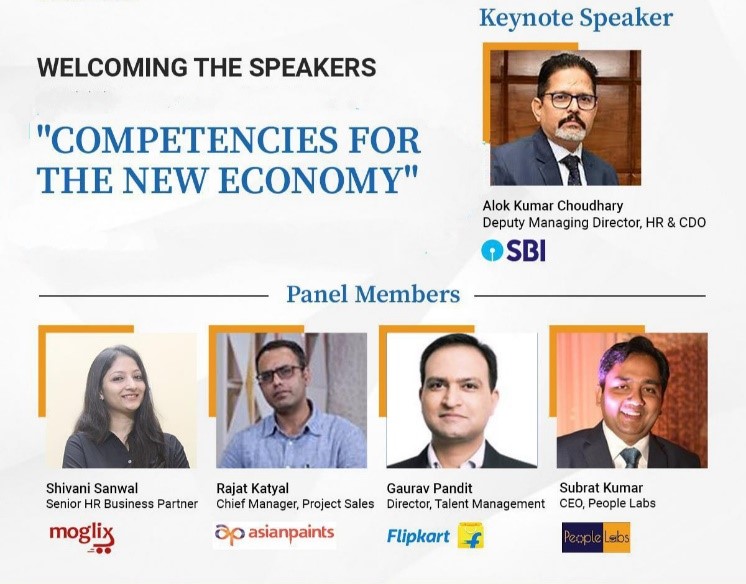 On 18th of October, 2020 IMI Bhubaneswar hosted a panel discussion on the topic, 'Competencies for the new economy", with several market leaders. The whole discussion was moderated by Prof. Pallavi Pandey of IMI Bhubaneswar.
The meeting was started off by the director, Prof. Ramesh Behl. He shed light on how he had transformed his competencies over the years to bring up IMI Bhubaneswar as it stands today. He talked about the struggles in the way of establishing IMI-B. He also added that in these difficult times, one should focus on learning how to learn.
The keynote speaker of the evening was Mr. Alok Kumar Chowdhury, Deputy MD, State bank of India. He stated that it's not just about the pandemic but the economies are continuously changing, hence strategies should be changed accordingly. He emphasized on the three competencies which need to be primarily incorporated - being authentic, self-aware and being flexible & adaptable. Mr. Alok also went on to explain how creativity, collaboration with people and the thought-concepts have become very important in today's scenario.
One of the panel member was Mr. Rajat Katyal, Chief Manager, Project Sales, Asian Paints. Mr. Katyal said that these changes are always around us and these transformations are inevitable. The competencies that he talked about are the technical competencies and resilience competencies. He also highlighted the usage and advantages of machine learning in the prevalent days.
Our next guest, Miss Shivani Sanwal, Senior HR Business Partner, Moglix, talked about how the organizations currently are differentiating between skills and competencies. She advised the students that they should be looking for opportunities to learn and enhance their social intelligence, ideation and execution of tasks.
Mr. Gaurav Pandit, Director, Talent Management, Flipkart, talked about certain ongoing disruptions both on the digital and regulatory sides. So, there is a need to zoom out of such disruptions and have the view of a bigger picture. We must take time to reflect on and zoom into the minds of customers, thus the need for design thinking.
Our last panel member, Mr. Subrat Kumar, CEO, People Labs, talked about the basic ground level competencies that one should inculcate. To summarize his theory, Mr. Subrat gave the concept of 5 Cs which stood for Connectivity, Creativity, Curiosity, Commitment and Communication.