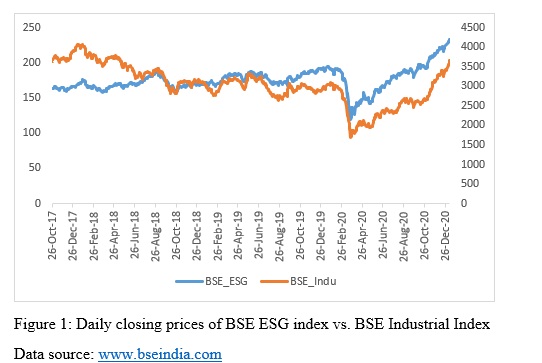 Prof. Sangram Keshari Jena
Designation- Associate Professor
Specialization- Finance &Eonomics
The air condition in New Delhi, the failure of Satyam Computers and labor unrest in companies like Maruti remind that the corporates should think beyond financial benefits and investors should think beyond financial matrices for investing. In the past few years, the philosophy of ESG (Environment, Social and Corporate Governance) investing is morphing into something bigger from a niche wave. Globally, the current asset under management using some form of ESG compliance stood at $40 trillion and it is expected to triple and cross $100 trillion in the coming decade. As a major emerging market, India has huge upside potential in this segment. India has currently only 7% of the total asset under management invested in ESG fund. However, it is expected grow to 30% in the coming decade marching with world market and clearly highlighting the growing significance of ESG compliance in investment decision.

The regulatory frameworks for ESG investing are already in place. The Business Responsibility Reporting notified by Securities and Exchange Board of India (SEBI) in 2012 has standardized the area of disclosure and increased the extent of disclosure beyond financials. Moreover, the enactment new Companies Act 2013 made it mandatory for companies to furnish non-financial information. The philosophy of ESG investing will not only create a sustainable eco-system for economic development, but also enhance the economic, social and governance responsible investment culture in the economy. The BSE (Bombay Stock Exchange) provides the barometer on how ESG compliant companies are performing in the financial market through an index called BSE ESG Index consisting of 100 companies meeting sustainable investment criteria. The BSE Index is outperforming the BSE Industrial index over the last three years as evident from the graph.


This implies that market rewards the ESG compliant companies and punishes the non-complaints.
As far as return to the investors is concerned, during the last three years the annual average return of BSE ESG index is 17.81% in comparison to 0.01% return on BSE Industrial Index. The time when our Honorable Prime Mister is targeting India for a $ 5trillion sustainable economy, the investors could ride the opportunity through the philosophy of ESG investing.