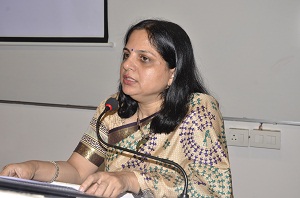 Supriti Mishra
-Professor
(Marketing, Strategy & General Management)
"Let me go Momma!
I want to fly farther & higher,
Look there,
How my friend birdie has been set free
by her mother,
It's only you, who still wants to anchor,
See how my friends have a fun-filled life,
Am still being watched for the wrongs & rights,
And how I have a terrible life!"
Said the little birdie...
"Oh dear!
I want you to rise higher,
But I just want you to know
where the ground is,
So you don't fall harder,
You should know how to roll or pitch,
When the wind blows stronger,
And you emerge the winner!"
Said the Mom birdie...
The little birdie looked at the mother,
Who had a smile on her lips,
And a lot of prayer in the corner,
The little one was about to set off
When the Mom said,
"Remember one thing, if you need me,
When you get battered & tired in the life's battle,
Don't go hither & thither,
Just so you know,
I'll be waiting for you here"...