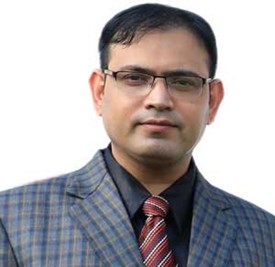 Prof. Sourabh Sharma
Specialization- Information Systems
Designation- Associate Professor


Post-Covid, management students can expect to return to a safe and secure environment on campus. But the onus also lies on students to follow the protocols while making the most of their time on the campus. Here's what you can do when you get back to school.
● UGC has detailed SOPs for preventive measures for campus reopening. Physical distancing, use of face masks, frequent handwashing are measures that we are now familiar with. Continue following them for your safety and others' too.
● It's also going to be crucial to stay watchful and self-monitor your health and wellbeing. If you notice protocols not being followed on campus, do not hesitate to ask questions. Focus on your health and watch out for any symptoms of cold and fever.
● Last year has been filled with numerous uncertainties and it has naturally taken a toll on students' mental wellbeing. If you are struggling with anxiety, nervousness; get help, which should be easily accessible at Top PGDM Institutes in India.
● Networking is a crucial component of B-School learning and it issomething many of you have missed in the past year. Now that you are heading back to campus, network with your batch mates, juniors, faculty members, industry professionals etc.
● One thing we have learned in the past year is that we can surmount big challenges with teamwork. The thing to remember is that you are in it together. Support your friends who might be under duress; you can derive strength from each other.
Going back to campus is exciting but it can also be nerve-wracking. While you might face some heat, you can still play it cool when you go back to school.