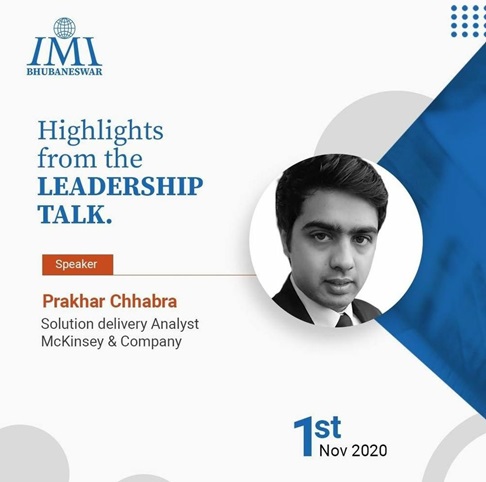 On 1st November, 2020, intending to equip the students for the rapidly changing business world, IMI had arranged a Leadership talk by Mr. Prakhar Chabbra who is an eminent corporate honcho, currently working with McKinsey.
"Leadership and learning are indispensable to each other". These words by John. F. Kennedy are the new mantra for students. The speaker justified how leadership and learning should go hand in hand. Today's students are mostly confined to one genre. They must explore various new areas such as analytics and AI beyond core areas such as marketing and finance to become a leader.


The speaker laid stress on how the case study analyses conducted in the institute and participation in various competitions organized by different Institutes play a vital role in increasing the understanding of the relevant market issues and their application. IMI has been providing the students a platform to participate in such events and hone their skills in as many areas as possible as knowledge is an important tool for becoming a future leader.