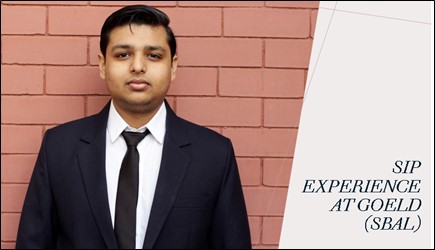 I did my summer internship at GOELD Frozen which comes under the banner of Shri Bajrang Alliance Ltd, as its Agro division. I was placed as a Marketing Intern through the campus placement process at IMI Bhubaneswar. In my opinion, working as an Intern in the FMCG sector has given me a lot of exposure that would help me in the long run. It was an enriching experience.
The duration of my internship was of 2 months, location of the internship was New Delhi. My first interaction was held at the company office with Mr. Anurag Diwan (Area sales Head). He has an amicable personality friendly, and he welcomed me warmly to the organisation. This internship started with fieldwork with me being allocated the Noida and south Delhi region respectively. The role was to visit every shop in the area along with the sales officer of that region where the product of the company was distributed and observe the sales of the products, promotion of the brand, handling complaints of the retailers regarding the products as well as securing new orders. As a marketer, it is very important to understand the market, sellers as well as consumers. In this role, I got an insight into the market as well as consumers. I was exposed to the functioning of an FMCG company and gained knowledge about how distribution, sales, and promotion work for an FMCG sector. And not only GOELD, but I also got to know about the products and the range provided by competing FMCG Companies such as ITC, Godrej, McCain etc. This role helped me learn managerial and administrative skills, self-reliance, and time management skills.


My internship was suddenly changed to work from home due to a unexpected lockdown in Delhi amidst the pandemic. From fieldwork, my role changed to tele calling the retailers for orders and working towards community building and increasing awareness of the brand through Instagram, WhatsApp, Facebook and LinkedIn. In addition, since the brand was preparing to launch itself in my city Lucknow, I was given the task of market target and segmentation of Lucknow for product launch as well as market strategy and campaign ideations. Although this was work from home, it never affected my learning and helped me gain a lot of knowledge.
During my internship, I got constant guidance and support from my corporate mentor as he was constantly guiding me throughout my work and also solving all my queries which made it easier for me to complete my tasks effectively. Also, my faculty guide extended his full support and guidance throughout the course of my SIP.
Finally, I would like to conclude that working for GOELD (SBAL) was a wonderful experience where I learned a lot. I would also like to appreciate the company and IMI Bhubaneswar for giving me this great opportunity to undergo this amazing journey of the summer internship.