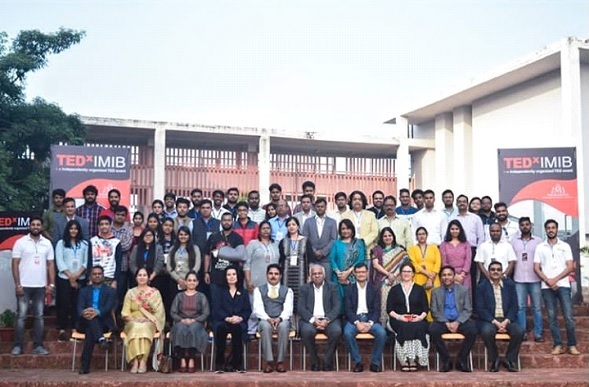 "There is nothing right or wrong, everything is either helpful or not helpful"
IMI Bhubaneswar conducted the TEDx event on 21 December 2019 themed "Exploring Infinitude" to celebrate multifaceted accomplishment by people from different walks of life. IMI Bhubaneswar welcomed six honorable speakers, with Miss Dutee Chand, the renowned Indian Track and field athlete and professional sprinter being the first speaker followed by Mr. Prabal Chakraborty, the VP and Managing Director of Boston Scientific Company India followed by Air Marshal Kulwant Singh Gill, who in a career spanning three decades and six years, has held instructional, directional and command appointments, including Commandant of the National Defense Academy. Next speaker on the podium was Miss Sucheta Kadethanker, an adventure sports enthusiast, Fitness expert and Life and Mindset Coach and also happened to be the first Indian woman to walk across the Asia's largest desert, The Gobi Desert, a distance of 1000 miles in Mongolia . Miss Rebekkah Kumar, the founder and CEO of fourseven (www.fourseven.com), a distinctive jewellery brand in the "affordable luxury" segment
for women and men. The last speaker for the day was Dr Alkistis Agio, a World-class Leadership Trainer; philosopher, psychologist, an advisor to C-suite executives & entrepreneurs.


The participants were inspired by the speaker's experiences and their will and determination of going against all odds. The experiences shared by them gave a great insight in the lives of these great people. This event inspired many young minds to follow their passions without the fear of failure or being judged by the society.