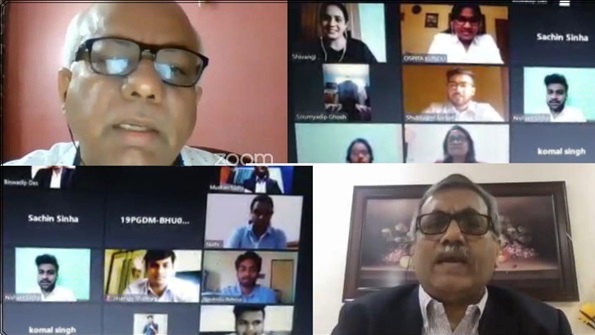 "Every ending is creating the space and opening for an amazing new beginning"
A two year Post Graduate Diploma Program, every year brings together a final bid of goodbye to our senior batch and an amazing opening for our junior batch. IMI-Bhubaneswar extended a warm welcome to batch 2020-22 in its Orientation Programme Inauguration held on 14th July 2020.
Due to COVID19 pandemic, the orientation was through a virtual mode, which is the new normal nowadays. Beginning with a rousing welcome speech from Prof. Ramesh Behl, Director IMI-Bhubaneswar to our 10th batch, who enlightened students about the curriculums and culture followed at IMI-B, the students were also advised by him about unlearning and learning skills and how to tackle the changing times.


The Chief Guest for the programme was Mr. Sanjeev Agarwal, CEO, Rangriti, a part of BIBA Apparels, who illuminated students about how college curriculums can enhance our soft skills and inculcate in students all the requisite corporate values. He also advised the students to enjoy the 2 years' journey and build networks among friends and with the alumni which they would cherish even after 2 years. The program was followed by an icebreaking session for the new batch and many other interesting events and talks. In these unprecedented Corona times, virtual events and virtual interaction processes provide an amazing experience for the new journey of life.