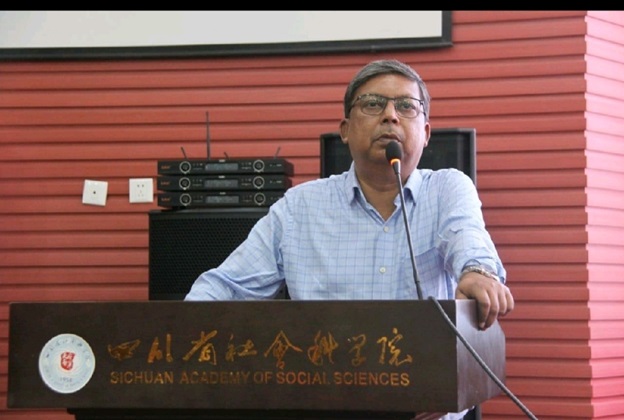 Visit to China
By: Prof. Rahul Gupta Choudhury
Associate Professor
(Marketing, Strategy, General Management)
IMI participates in a conference organized by Sichuan Academy of Social Sciences, Chengdu (Sichuan Province of China), every alternate year. This year my paper was shortlisted for the conference and I was elated. I did not want to miss this chance of going to a country which I have heard of so much. What attracted me to China was not only the ancient culture (like India), but the remarkable growth story of the past few decades. So, I decided to travel to a few other cities of China before reaching Chengdu. I set off with a lot of anticipation and a bit of trepidation for my travel to cities like Shanghai, Xian, and Beijing. A simply wonderful world opened up before me as soon as I reached Shanghai. I saw a completely developed country bustling with efficient systematic activities which actually belongs to the few developed countries in the world. Then I travelled to other cities as well and was mesmerized at the level of development that has taken place in China. I was acutely aware of the fact that China and India were on par on all strategic parameters even a few decades back. Here, I was standing in China and often times making a mental note of how far they have travelled within a few decades leaving my own country India far behind. My perception of China changed enormously and off course, for the better.


Then I reached Chengdu and a greater surprise awaited me. From the services offered in the airport to the hotel that I was put up in, there was a very distinct mark of Chinese hospitality exuding warmth of its people for us. I realized that we are actually neighbors and our manners and behavior were really not that different. This is not only a country which has become prosperous, but also a country which has remained rooted to its history, culture, and social norms. The hospitality extended by the faculty, staff, and students of the Institute was so typical of the Eastern world culture and I was really quite taken by surprise. Their multifarious arrangements in every aspect of our stay there were executed smoothly and efficiently – and above all, were always delivered with a smile. At a certain point in time, I felt as if I belong there itself and became a part of their organization.
My China visit in 2019 will always remain a top of the mind memorable experience for me. I wish China and the Sichuan Academy of Social Sciences an even more prosperous and happy life ahead of them.