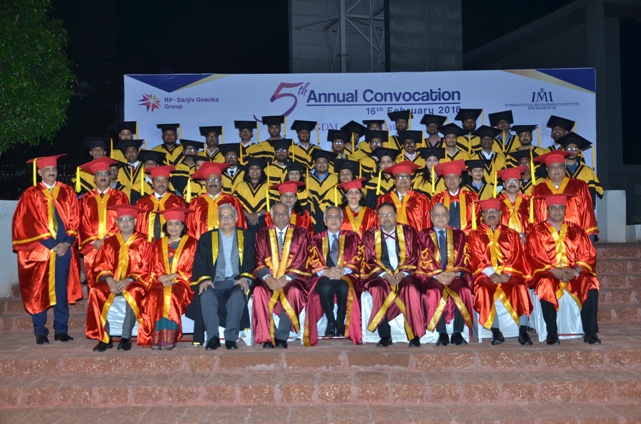 The Fifth Annual Convocation of the International Management Institute (IMI) Bhubaneswar was held on 16th February, 2018 in its campus in which Post Graduate Diplomas were conferred to the successful students of the PGDM 2015-17 and PGDM (Part Time) 2013-16 batch. IMI Bhubaneswar draws sustenance through creation; dissemination and application of knowledge which integrate seamlessly with each other to translate into research, teaching and training for its stakeholders. Dr. Rajiv Kumar, Vice-Chairman, NITI Aayog, Govt. of India delivered the Convocation Speech as Chief Guest of the event.
Dr. Rajiv Kumar presented the Gold Medal to Mr. Rameswar Behera and Silver Medal to Mr. Deepanjan Dutta for their outstanding performance in the PGDM batch 2015-17. Mr. Deepanjan Dutta got Dr. Rama Prasad Goenka 'Best Student Medal' and Mr. Rameswar Behera received the Director's medal for overall contribution to the institute.
Dr. Rajeev Kumar in his Convocation speech congratulated graduating students and while addressing he said to students that they will take the nation to the growth trajectory. By 2039 India will be economic super power with the per capita income of $20,000 per annum. He mentioned that no country other than India has witnessed three transition simultaneously viz. social, political and economic. In the beginning of his speech he said no Institute of higher learning has got mention in top 200 institutes across the globe, he believes IMI can fill up that vacuum.
At the outset Prof Ramesh Behl, Director IMI, Bhubaneswar delivered his welcome address and presented the annual academic report of the Institute. He extended a warm and hearty welcome to the audience to 5th Convocation. He appreciated the efforts of faculty in research and publications. He also mentioned in his address that inspired by Prime Minister's vision of start-up India, IMI has developed a robust E-cell for grooming students to be future entrepreneurs.
Prof. Debashis Chatterjee, Director General, in his address told graduating students that talent and temperament are two important ingredients of success. He also mentioned that the Institute has made remarkable progress in terms of new companies coming to the campus and remuneration offered.
Over 400 dignitaries from academia, senior government officials, leaders from the corporate sectors, members of Board of Governors of IMI, Bhubaneswar as well as the parents of the graduating students attended the event.